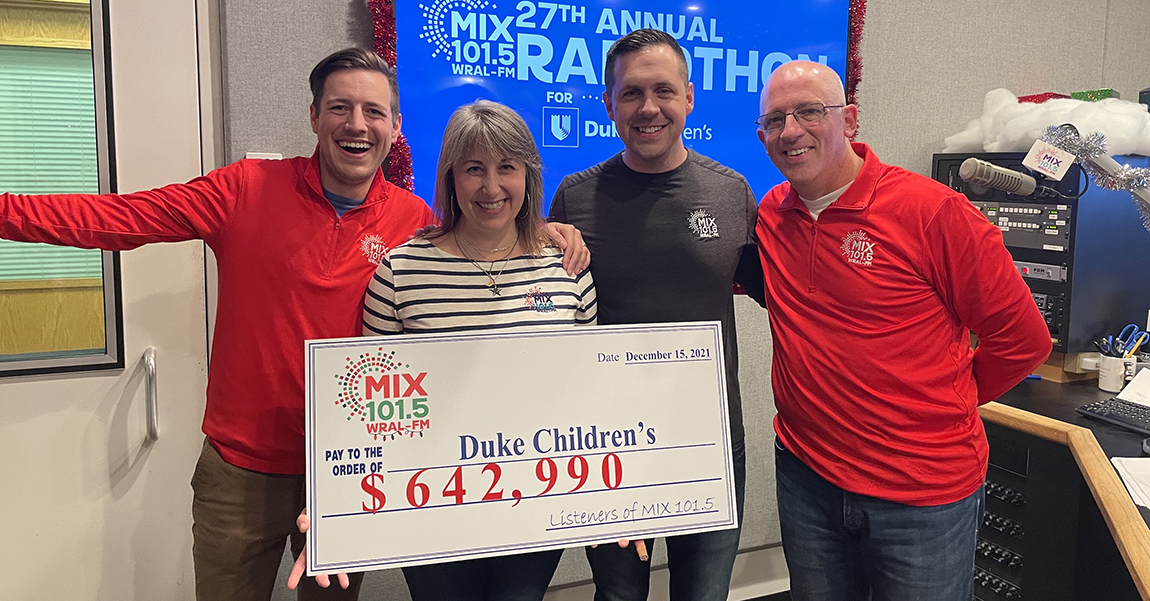 The 2021 Season of Hope Radiothon was December 14-15! The 2022 Season of Hope Radiothon date will be announced soon. 
The Season of Hope Radiothon on MIX 101.5 is Duke Children's largest single fundraising event each year. This signature event raises funds to benefit children's programs and further support the continuation of excellence within the medical and surgical programs at Duke Children's. Nearly $643,000 was raised for Duke Children's during the 27th anniversary of the MIX 101.5 Radiothon in 2021!
The 2021 MIX 101.5 Radiothon for Duke Children's was December 14 and 15, 2021, and raised $642,990.90 for Duke Children's at the end of the two-day broadcast, which was the culmination of our Season of Hope fall-to-winter fundraiser!
Thank you to EVERYONE who donated to support Duke Children's!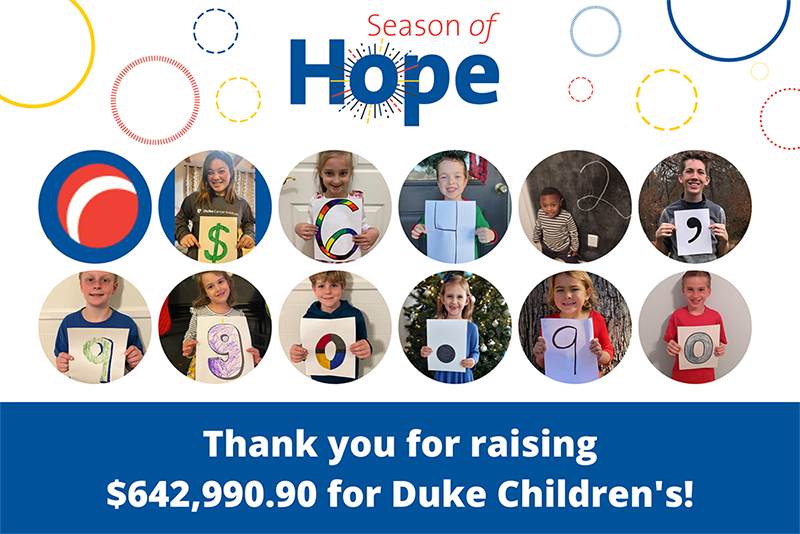 MIX 101.5 has raised over $19 million for the kids at Duke Children's over the past 27 years thanks to the compassion and caring of MIX 101.5 listeners, our sponsors, patient families and hundreds of volunteers.
Due to COVID-19, Radiothon 2021 was not held in the CHC -- the entire event was held virtually, with patient families calling into MIX 101.5 from their homes, and volunteers manning the phones from their home offices. However, Radiothon still sounded the same, and we hope you tuned in to hear incredible stories of hope and healing from our patient families.
Hourly and daily challenges kept listeners pledging while volunteers answered your calls. Thank you for tuning in and pledging your support. Together, we can continue to advance care and give hope to the children and families who need it most.
For additional updates, visit the MIX 101.5 event page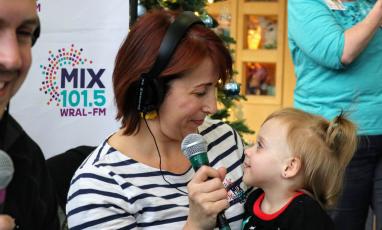 Want to hear stories from Radiothon 2021? Visit the MIX 101.5 Facebook page for archived live interviews from our amazing patients and their families! Listen and celebrate hope for children in our community. 
Hear their stories!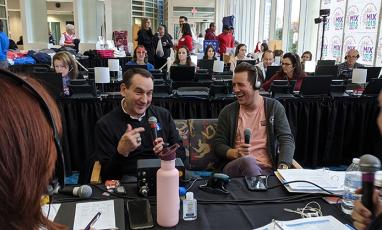 Start your own Radiothon fundraising page! This year, we are making it easier than ever for you to show and grow your support for Duke Children's. We are excited to see all the creative ways you can help change kids health and change the future! Get started below! 
Start your own fundraiser!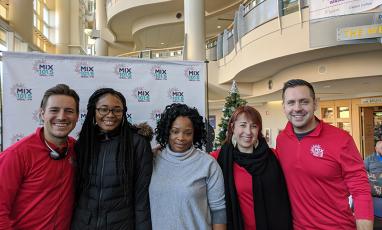 Want to spread the word about Radiothon? It's easier than ever to share about Radiothon and the Season of Hope! Get some tips, share your Duke Children's story, and let the world know why it is more important than ever to support Duke Children's! 
Help us share!
YOUR GIFT TO THE DUKE CHILDREN'S RADIOTHON CREATES A BRIGHTER FUTURE FOR CHILDREN IN NEED
Partnership Opportunities
Choose a partnership that puts you in front of the community showcasing your support of Duke Children's, your local Children's Miracle Network Hospital.
Benefits
Circle of Hope
Champion of Hope
Power of Hope
Spirit of Hope
Broadcast mentions on
MIX 101.5 during Radiothon
Two Days
Two Days
Primetime Hour
One Hour
Mention in digital and print ad
campaign and marketing
Yes
Yes
Yes
Yes
Patient story feature
Yes
Yes
Yes
Yes
Matching hour promotion
Yes
Yes
Yes
 
Check presentation & on-air 
interview
Yes
Yes
 
 
Featured partner in digital
marketing
Yes
 
 
 
INVESTMENT
$25,000
$15,000
$10,000
$3,500