SAFETY FIRST
Duke nurse is leading the charge to keep kids safe in Durham
Written by Miriam Sauls
Photographs by Les Todd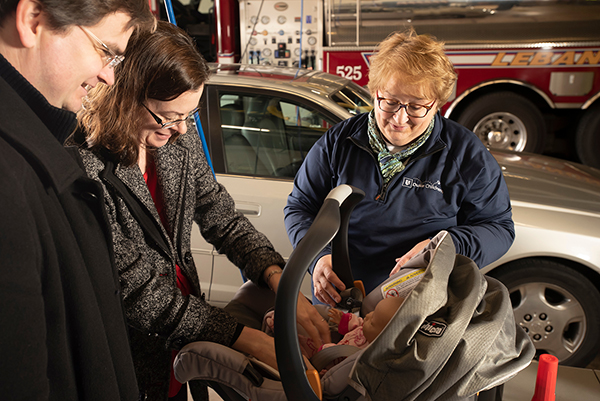 As a nurse at a Level 1 trauma center in the 1980s, Theresa Cromling found herself constantly thinking that she would love to put herself out of a job. 
"I saw injury after injury—kids who would not have been injured had they been in a properly installed car seat or been biking with a helmet," she says. "How do we stop this?" 
Statistics confirm Cromling's anxiety. According to Safe Kids, a worldwide organization created to prevent childhood injuries, preventable injuries are the number one killer of children in the United States. Every year in this country, 8,000 families lose a child because of a preventable injury. 
Cromling got her chance to do something about her concerns in 2000 when she was offered the position of coordinator for Safe Kids for Durham County, the local affiliate of the worldwide organization. Duke Children's is the local lead agency, and administrators there knew Cromling would be perfect for the half-time job, combining it with her clinical nurse IV job in the procedural sedation unit at Duke, where she is on a team to keep children comfortable during medical procedures. 
I saw injury after injury—kids who would not have been injured had they been in a properly installed car seat or been biking with a helmet. 'How do we stop this?'
- Theresa Cromling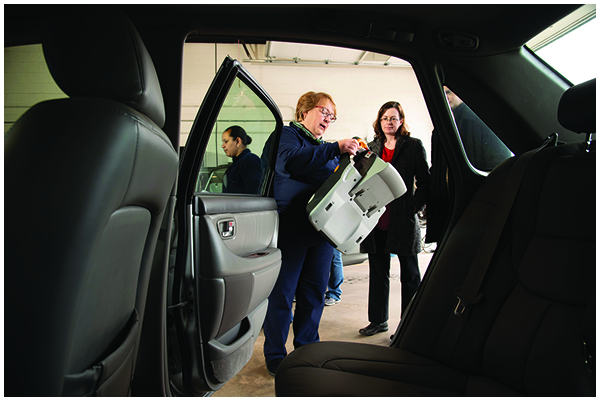 Since 1988, when the nonprofit was founded, Safe Kids has helped reduce the U.S. childhood death rate from unintentional injury by 57 percent. 
Cromling emphasizes that as coordinator of Safe Kids Durham County, she is not doing this work alone. Safe Kids has established partnerships with organizations like Welcome Baby, Head Start, and the fire department for fire and burn education. Fire stations with certified technicians also serve as permanent checking stations for car seat installation, which is a Safe Kids priority, as Cromling says that 91 percent of infant car seats have at least one installation error. 
Cromling is a certified child passenger safety instructor, teaching a nationally standardized class to persons wanting to become certified car seat technicians. She is also an instructor for the "Transporting Children with Special Health Care Needs" class—and is one of only two people in the state certified to teach the class. 
Over the years, Cromling has witnessed changes in childhood injury. Motor vehicle, drowning, and fire accidents are ongoing, but the growth of opioid use across the population has presented new challenges for children, with suicide and poisoning becoming more prevalent. 
"One of our programs at Safe Kids is Operation Medicine Drop," says Cromling. "We work with local law enforcement agencies twice a year to encourage families to bring their unused expired medications to us to dispose of. Last year in North Carolina we collected 43,838,250 pills." 
In 2017, Cromling was awarded the statewide Bill Hall Lifetime Achievement Award for child passenger safety. Hall himself, recently retired from the UNC Highway Safety Research Center says, "Theresa has really put her heart, her soul, her passion, and lots of hard work into trying to make children in North Carolina as safe as possible." 
And that reaches well beyond car seats. Cromling still hopes to put herself out of a job, but in the meantime, her passion will push her to continue doing what she can. "Seeing the devastation to families when their kids are injured, or worse, do not get to go home with them, you just know you have to do something to prevent that sorrow." 
71%
The percentage by which correctly used child safety seats can reduce the risk of death. (Source: Safe Kids Worldwide)
3/4
3 out of 4 car seats are not used or are installed incorrectly. (Source: Safe Kids Worldwide)
YOUR GIFT CREATES A BRIGHTER FUTURE FOR CHILDREN IN NEED
We appreciate gifts of any size, making sure that your generosity is used to advance medical care and provide a better tomorrow for our children. You can choose a dollar amount to give now, or continue exploring more ways that you can support Duke Children's.