MAKE A TRIBUTE OR MEMORIAL GIFT
HONOR A LOVED ONE
Making a tribute gift is a very special way to recognize or memorialize a meaningful person in your life while also helping Duke Children's.  When you make such a gift, you play a critical part in our ability to continue providing exceptional care and hope. 
Memorial Gift
When you make a memorial gift, you remember, honor, and celebrate someone important to you. These gifts are a meaningful way to keep the memory of your loved one alive while also creating lasting positive impact.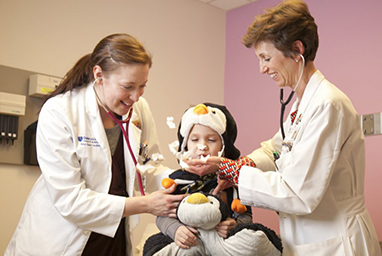 Honorary Gift
For those looking to honor a loved one, special friend, or Duke Children's medical provider, an honorary gift is the perfect option. Honorary gifts can be made in lieu of flowers, in honor of a birthday, anniversary, graduation, or just to say "thanks." 
If you were a patient or family member of a patient, you can also use an honorary gift to express gratitude for your care. Your gift helps Duke Children's recognize the amazing caregivers that make our work possible. 
Special Occasion Giving
Commemorate a special occasion by celebrating with a donation in lieu of gifts. Your generosity helps make a meaningful difference in the lives of those we serve, and can make the occasion even more memorable and rewarding.
CREATE A SPECIAL OCCASION FUNDRAISING PAGE 
Make a Legacy Gift 
Creating a lasting legacy in your family's name can make a powerful, ongoing difference in the lives of our patients. Your family can also benefit from tax benefits when you make a planned gift.
The William H. Mautz Pediatric Cardiology Support Fund honors the memory of our son and brother, and acknowledges the wonderful care he received at Duke Children's hospital. Most importantly, though, funding this endowment keeps our family focused on a positive, tangible expression of our love for Will and his ideals.
– The Mautz Family
Visit our giving portal to make your memorial/honorary gift. As you progress through the online form, you will have an option to select "I would like to give this gift in honor or in memory." Select that option and follow the form instructions.
For special occasion and legacy giving, contact dukekids@dm.duke.edu for more information. We'll work together to find the right way to honor and memorialize your loved ones.
YOUR GIFT CREATES A BRIGHTER FUTURE FOR CHILDREN IN NEED
We appreciate every gift of every size, making sure that your generosity is used to advance medical care and provide a better tomorrow for our children. You can choose a dollar amount to give now, or continue exploring more ways that you can support Duke Children's.