ELISE'S STORY
Quality care for a special little girl
By Lindsay Gordon-Faranda
Elise's parents' world changed when a prenatal ultrasound showed a kidney defect. At her birth, they learned she had two holes in her heart and a low white blood count. When she was three months old, she was diagnosed with two congenital conditions: Jacobsen syndrome and Paris-Trousseau syndrome.
Jacobsen syndrome is a chromosomal disorder. It is devastating—a quarter of children with it die before their second birthday. Paris-Troussseau syndrome is a blood platelet disorder which causes a lifelong risk of abnormal bleeding and easy bruising. These rare conditions combined mean that Elise lives with numerous issues including immune deficiency, hypothyroidism, ADHD, and epilepsy, among others.
You probably aren't familiar with these conditions. Fortunately for Elise, Duke Children's is. Duke Children's entered Elise's life when her family recently moved from Michigan to Greensboro, North Carolina for her father's work. It was a frightening time for Elise's parents.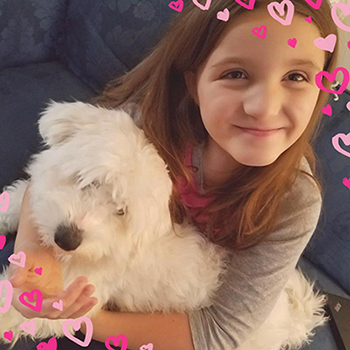 "It was important for us to know our daughter would be well cared for when making the decision to move. We chose Duke Children's because of their reputation for world-class doctors and researchers. Because our daughter's condition is very rare, we need doctors who keep up with the most recent research and are interested in rare diseases." 
At nine years old, Elise has already had seven surgeries. But, this extroverted and charismatic little girl doesn't let her medical conditions stop her. She loves singing and dancing—she even has her own YouTube channel! She also loves advocating for children's hospitals that help kids like her. She was an active participant in Children's Miracle Network Hospitals fundraising at her former hospital and remains active here at Duke Children's, serving as Patient Ambassador for Walmart and Costco campaigns. Duke Children's membership in the Children's Miracle Network Hospitals was an additional reason her parents chose Duke.
As Elise continues to grow, she will need further treatment and Duke Children's will be there to make sure that she can keep doing all the things she loves. 
Elise has a very complex medical history, and regularly sees at least five specialists, so ensuring all of her care is coordinated is of utmost importance. We know we made the right decision entrusting our precious daughter's health to Duke Children's.
- Elise's mother, Beth
YOUR GIFT CREATES A BRIGHTER FUTURE FOR CHILDREN IN NEED
We appreciate gifts of any size, making sure that your generosity is used to advance medical care and provide a better tomorrow for our children. You can choose a dollar amount to give now, or continue exploring more ways that you can support Duke Children's.