Tenacious Teamwork
Cross-functional medical team supports teen who refuses to be defined by his diagnosis 
By Vicki Frye 
Photography by Ken Huth
Published as part of the Summer 2023 issue of Duke Children's Stories
A junior studying at the University of North Carolina (UNC) Kenan-Flagler Business School, Tyler Trexler is not your typical college student. In June of 2019, Tyler was a rising high school senior with a promising basketball career, optimistic about his future as a student-athlete and looking forward to finishing high school strong before moving on to college life.
Along with his teammates from Green Hope High School in Cary, North Carolina, he was spending his summer break competing in tournaments and attending camps when without warning he began to experience unexplained and debilitating pain in his left leg. As much as Tyler and his parents wanted to dismiss the discomfort as a bout with tendonitis or a pulled muscle caused by excessive time on the court, they sensed what he was suffering was not an ordinary injury.
Despite their attempts to ease Tyler's relentless condition through massage therapy, cryotherapy and alternative methods of care, his pain persisted. His parents Mark and Suzanne Trexler sought answers first through x-rays, and ultimately through an MRI which confirmed their fears that Tyler was facing something much more serious. Scans revealed an abnormality in the left side of his pelvis. While results from a biopsy in July were initially negative for cancer, Tyler's pain persisted.
"Tyler is truly remarkable. It inspires care team members when our patients are chomping at the bit to live their life. He hasn't let cancer take over his life, and it's encouraging to see him press on and not be hindered by his treatment or diagnosis."
- Lars Wagner, MD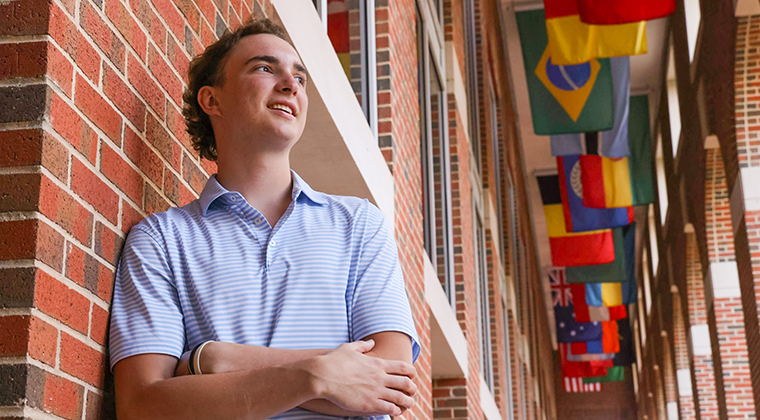 PLAYING ZONE DEFENSE
In September of 2019, in response to Tyler's continuing symptoms, Lars Wagner, MD, professor of pediatrics, chief of the division of hematology/oncology at Duke Children's, arranged for a second biopsy to be performed. This time results were woefully conclusive. Tyler tested positive for Ewing sarcoma, an aggressive bone cancer seen most often in teenagers. This diagnosis included a tumor in his left pelvis, as well as numerous metastatic nodules in his lungs, which can develop when cancer travels through the bloodstream to the lungs.
In order to get control of the disease, Wagner partnered with a robust team of Duke medical experts including Will Eward, MD, DVM, orthopaedic oncologist and Laurie Graves, MD, oncology fellow. Together, along with radiation and surgical oncologists and members of the Teen and Young Adult Oncology Program at Duke Cancer Institute, they developed a treatment plan for Tyler.
"One of the great advantages for patients undergoing cancer treatment at Duke is our providers' commitment to work together seamlessly, across specialties, to provide each patient with comprehensive care," shared Wagner. "I worked closely with my counterparts to strategically identify solutions to manage Tyler's complex case."
Because his tumor was situated in the pelvic bone, the prospect of surgical intervention was high-risk, putting Tyler's future mobility in jeopardy. Therefore, his 28-week treatment plan included 14 rounds of chemotherapy to be delivered inpatient at Duke Children's, followed by proton beam radiation—a precise form of radiation that helps to kill cancer with minimal side effects and reduce the risk of radiation damage to surrounding tissue and other parts of the body.
Tyler's treatment started at Duke Children's with chemotherapy in October 2019 and continued into the new year, with two months of proton beam radiation—along with chemotherapy—completed at Children's Hospital of Philadelphia (CHOP), one of only a few hospitals in the nation that offered this specialized treatment. After 31 radiation treatments, Tyler and his mom, dad, and chocolate labrador retriever, Lucy, returned to North Carolina to finish his care plan at Duke in May 2020.
Despite the challenges brought on by his Ewing sarcoma, throughout the course of his care, Tyler refused to be defined by his diagnosis. Although treatments kept him from playing in every basketball game during his senior season, with the support of his family and friends, he never missed a game—watching online when he couldn't be on the court. Tyler also made a point of showing up for early morning and afternoon practices while undergoing treatment, transitioning from his role as a player to a coach and mentor for the team. His teammates adopted Tyler's "TNT Strong" attitude and wore Green Hope "FAMILY" warm-up shirts to each game.
"Throughout his treatment, Tyler received incredible support from his high school friends who constantly visited him at Duke Children's and traveled to see him in Philadelphia," said Suzanne Trexler, Tyler's mother. "His sister, Paige, who lives in New York City, was able to make frequent visits to CHOP, while his brother, Bradley, was the first to shave his head in solidarity with Tyler—which was quickly followed by ten friends, who did the same."
Despite the fact that his senior year was complicated by his diagnosis and the pandemic, Tyler graduated from high school summa cum laude, looking forward to a fresh start in college.
Tyler Trexler, center, with his parents, Mark and Suzanne, at the Old Well on UNC campus.
Tyler participated in the second Over the Edge for Duke Children's in fall of 2021, raising more money for Duke Children's than any participant that year. 
REMATCH
Hopeful and with cancer in his rearview mirror, Tyler began his freshman year of college during the fall of 2020 with intention. As is the case for most Ewing sarcoma survivors, Tyler would visit Wagner, Eward and Graves, and other Duke Children's staff for his routine quarterly monitoring. For more than 18 months, he enjoyed a clean bill of health and a typical college experience, including pledging the brotherhood of Sigma Nu fraternity.
Regrettably, at the start of his sophomore year in September 2021, during one of his scheduled MRIs, a recurrence of Ewing sarcoma was discovered in a muscle adjacent to Tyler's pelvis. Once again, Tyler and his family huddled with Wagner and other care providers to map out a new game plan.
Despite his diagnosis, there was reason for optimism. Tyler not only qualified to participate in a clinical trial, but because his recurrent tumor was within the soft tissue but not involving the pelvic bones, surgical oncology could perform a procedure to remove the tumor. Following surgery, Tyler would receive traditional chemotherapy treatments. The strategy to defeat his formidable opponent was in place.
But first, just two days before treatment was scheduled to start, Tyler fulfilled his commitment to participate in Over the Edge, a peer-to-peer fundraiser in which participants rappel down the side of the 17-story 21c Museum Hotel in downtown Durham, to raise support for Duke Children's patient care, pediatric research, and provider education. Not only did Tyler rappel, he was a true inspiration—the top fundraiser for the event, collecting more than $10,000 in donations from friends, family and members of the community.
With this accomplishment achieved, Tyler forged ahead to have his tumor removed. In the months to follow, he managed a strenuous outpatient treatment schedule that included almost daily visits to the Duke Children's Jim Valvano Day Hospital. Still, he managed college life—attending classes, going to basketball games, and enjoying fraternity events. In a show of true support, Tyler's Sigma Nu brothers surprised him one day by shaving their heads. Tyler also earned admittance into the Kenan-Flagler Business School.
"My sarcoma recurrence was especially emotional; there were times when the regimen felt isolating and frustrating, and I wanted to see more progress, faster," said Tyler. "But the Duke Children's staff—from the nurses and physical therapists, to the doctors and patient advocates—did everything they could to guide me and my family through the process, answering our questions and providing me with truly customized care to match my unique situation."
In April 2022, Tyler received the news he'd been waiting months for: a clean bill of health. Within just weeks he left to study abroad at the Copenhagen Business School for the summer; while there for eight weeks, Tyler explored nine countries.
Now, a junior at UNC Chapel Hill, Tyler continues to live life to the fullest. He participated in a Kenan-Flagler global immersion experience in Australia and New Zealand in May followed by a summer consulting internship in Washington D.C. Tyler is focused on a career in corporate consultancy with a continued passion for giving back.
"Even though Tyler's initial cancer diagnosis and recurrence were at times overwhelming, the support we received at Duke Children's gave us hope for his future after treatment," shared Mark Trexler, Tyler's father. "And we are so proud of Tyler. He has been a warrior and remained positive every step of the way."
My sarcoma recurrence was especially emotional; there were times when the regimen felt isolating and frustrating, and I wanted to see more progress, faster. But the Duke Children's staff—from the nurses and physical therapists, to the doctors and patient advocates— did everything they could to guide me and my family through the process.
- Tyler Trexler
Program Spotlight: Caring for the Whole Person 
The Duke Cancer Institute's Teen and Young Adult Oncology Program (TYAO), a philanthropically funded support effort, provides a comprehensive range of services to adolescents and young adults who are managing the life disruptions caused by a cancer diagnosis. Dedicated to the care of young people ages 15 to 29, the TYAO Program has a committed staff of clinicians and other advocates helping to bridge the gap for young patients who are on the cusp of transitioning to adulthood and adult care providers.
Wagner is the pediatric physician champion for the TYAO program, working in partnership with other oncologists and specialists including a nurse navigator and behavioral health therapists. This highly specialized team walks alongside teens and young adults managing cancer treatment and survivorship, making certain they are receiving the support they need including access to clinical trials, age-appropriate education and resources, onco-fertility services, psychosocial support offerings and survivorship care.
Launched in 2016, the Duke TYAO Program offers comprehensive services such as psychology services, fertility preservation, peer meetups and community outings and medical family therapy. Because treatment often begins quickly, a TYAO nurse navigator promptly initiates contact with each patient. This informed assistance is particularly important to help patients and their families navigate through a maze of decisions, including fertility preservation options, ensuring patients understand and explore the possibilities for their reproductive future. The nurse navigator helps to fast-track oncology patients for preservation prior to treatments such as chemotherapy and radiation, which can negatively impact fertility. Ultimately, this enables patients to preserve and maintain options for a family in the future, should they want to have children. Currently, TYAO serves about 175 youth annually for onco-fertility services.
"A cancer diagnosis is hard on its own. Being a teen or young adult with cancer creates unique challenges during a time when young people are figuring out who they are and going through major life changes," said Coleman Mills, TYAO program manager. "We are here for them from diagnosis through treatment and even through life after treatment, providing the education and support needed to manage the impact cancer has on their lives."
YOUR GIFT CREATES A BRIGHTER FUTURE FOR CHILDREN IN NEED
We appreciate gifts of any size, making sure that your generosity is used to advance medical care and provide a better tomorrow for our children. You can choose a dollar amount to give now, or continue exploring more ways that you can support Duke Children's.