COMPLEX CARE
Special program offers support, better-integrated care for children with medical complexity
Written by Lindsay Gordon-Faranda
Please note - this is the fundraising website for Duke Children's. For information about Duke Children's clinical and patient offerings, or to make an appointment with our providers, please contact 919-668-4000 (Children's Health Center main number) or 919-944-8739 (Duke Health referral line). 
After several years of treating hospitalized patients at Duke Children's, David Ming, MD, assistant professor of medicine and assistant professor in pediatrics, noticed a troubling trend. He and his fellow pediatric hospitalists would treat children with a multitude of serious and chronic conditions and release them from the hospital—only to see them often readmitted a few months later.
These children saw many specialists, sometimes across different towns and health systems, and their medical information was scattered; frequently, the only centralized place all that information resided was with the patient's parents. Each time one of these patients was readmitted to Duke Children's, Ming and his fellow hospitalists found themselves managing much of the care coordination.
"That's a really challenging dynamic: coordinating all the pieces that are necessary to care for a medically complex child," says Ming.
"I can only imagine how hard that would be for a non-medically trained person to do, particularly for their own child, when the stakes feel even higher." In 2014, with the help of fellow hospitalist Heather MacLean, MD, and the support of a state grant to develop innovative approaches to coordinate care for children with medical complexity statewide, the Duke Children's Complex Care Service (CCS) was born.
Stacy Sorensen holds a photo of her son Ryan, who passed away in 2016. Stacy now works part time with the Duke Children's Complex Care Service in honor of Ryan's memory.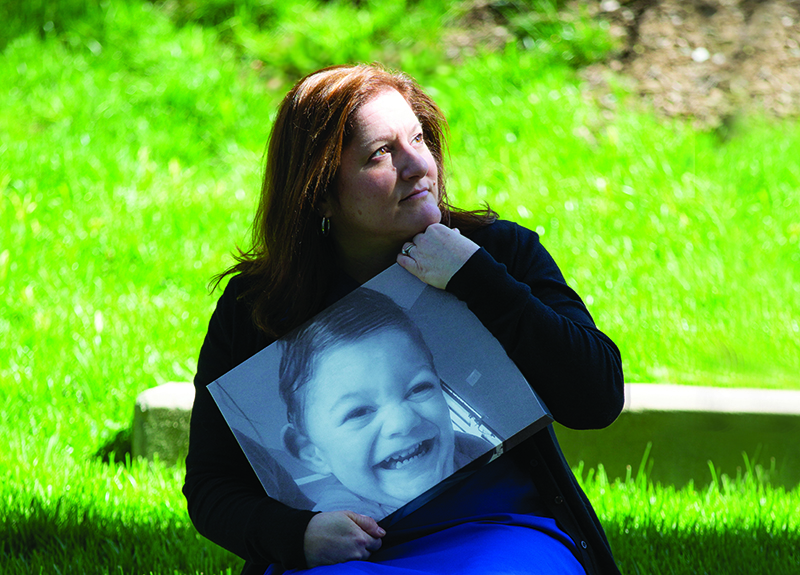 Who Are Children with Medical Complexity?
Children with medical complexity (CMCs) have lifelong or chronic illnesses or conditions that do not stem from any single disease or organ system. They may have a seizure disorder, a genetic defect, a heart defect that is related to the genetic defect, and neurodevelopmental delays. They usually depend on medical technology, such as feeding tubes, ventilators, and shunts, for daily living. As a consequence of all of these conditions, these children are frequently admitted to the hospital.
Ryan Sorensen was one such child. Born 16 weeks early in 2012 and weighing 15 ounces, he had a severe intraventricular bilateral brain hemorrhage and numerous other complications. After two months in another hospital, Ryan was eventually moved to the Duke Children's Intensive Care Nursery, where he spent nine months, nearly succumbing to complications from pulmonary hypertension.
When he was discharged, he had shunts to help with the pressure in his brain from the hemorrhage, a tracheostomy, a ventilator, and a feeding tube. His parents, Stacy and Tom, quickly learned how to manage Ryan's care with the assistance of home care nurses—all while continuing to work full time. Despite these difficulties, life had a routine.
"Ryan was the happiest kid," Stacy says. "It was just natural for him to be in a good mood, looking for the next joke or toy or entertainment. He had no idea that he was medically complex and fragile."
However, Ryan was frequently hospitalized due to complications with his shunt. During one of these visits, his parents were approached by the CCS team about enrolling in the program, and they joined in 2015. "They made it their business to get to know Ryan on such a detailed level," Stacy says. "I could stop being a walking chart in the hospital and could just be a parent with a sick kid."


Filling a Need
Ideally a CMC would have an outpatient medical home and a primary care physician who would handle care coordination. "The reality was that, for a lot of our patients, they weren't home enough to establish centralized care with a primary care physician," states Katy Bartlett, MD, associate professor of pediatrics and chief of the Division of Hospital Medicine.
CCS offers several integral services to enrolled families. A CCS clinician (nurse, nurse practitioner, or physician) is accessible 24/7 via pager, and regular communication is handled over the phone or video chat. Care coordination is centralized and all appointments and notes are accessible. If a patient is hospitalized at Duke Children's the family has access to the Worley Inpatient Service, an inpatient care line specifically devoted to children with medical complexity. Patients in the Worley service are cared for by the CCS team, which also coordinates treatment for the patients during their stays. Most importantly, the family is always fully engaged through the process.
Bartlett says that working with families on their own personal goals is an integral part of their work. "For some parents it's going a certain amount of time without having seizures, for some it's their child being able to eat by mouth, and for some it's spending more time at home," Bartlett says. "For us, the success is helping families achieve what matters to them."
Seven-year-old Gabrial Smith, pictured here with his parents Stephanie and Brandon, has been a patient in Duke Children's Complex Care Service (CCS) for several years. Gabrial was born with a genetic disorder called hypotonia. 
Gabrial's hypotonia affected his muscle tone, and muscle weakness in his mouth and jaw led to the late development of his ability to speak. Shortly after he was born, Gabrial had a stroke that caused additional health problems. Later, one of his lungs also collapsed.
Gabrial's multiple health conditions require care 24 hours a day. Here, Nurse Stephanie Winston (left) joins the Smith family on Gabrial's keyboard. 
Gabrial's parents both work. They rely on help from family members and a health care worker who comes to the family's house daily to assist in Gabrial's care.
While Gabrial sleeps at night, a family member or a health care worker monitors his breathing. When he goes to school, a health care worker is with him constantly. 
Thanks in part to his care at CCS, Gabrial is able to go to school three days a week and gets around in his power chair. He enjoys shopping, loves music, and likes to be called "GQ." 
Gabriel attends school at Long Mill Elementary School in Youngsville, North Carolina, where he works on his speech therapy 
Gabrial recently wrote his name for the first time. 
Leaving a Legacy, Planning for the Future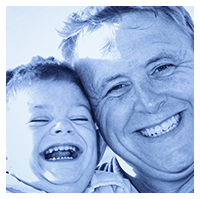 In the late fall of 2015, Ryan suffered a severe shunt infection and was comatose for several days. The damage to his brain was catastrophic, and Ryan never fully recovered. He died in May 2016, when he was four years old. Stacy, who had left her job to care full time for Ryan in his last months, wanted to do something that would utilize the knowledge and skills she gained while caring for a medically complex child, something that would honor Ryan.
An opportunity arose for a part-time family partner who would be a parent support figure and navigational aid to families in the CCS program, and Stacy jumped at it. After several months of training in counseling, health coaching, and listening, she became CCS's first-ever family partner.
"I wanted to support the parents," Stacy says. "The kids are getting what they need, but the parents are the engine of the car. They drive their child's care. And if the parents are running on fumes and conk out, the whole thing breaks down. Parents of medically complex kids sometimes need a permission slip to support themselves for self-care." Stacy supports CCS parents emotionally and logistically, offering a listening ear, giving advice from her own experience with parenting a CMC, or connecting parents with other resources as needed.
"A lot of families will tell Stacy stuff that they wouldn't mention to the rest of our team," Bartlett adds. "Having Stacy there to share her experiences and offer advice, I think it has been really meaningful to our patients and families."
Currently, CCS is composed of six doctors, two nurse-clinicians, a nurse practitioner, two coordinators, a social worker, and the family partner. The program has over 90 active patients, with more than twice as many on a waitlist.
The team hopes to expand the program's patient capacity to serve more patients, and is looking at how to scale up sustainably. They are also contending with other complications, such as medical accessibility and at-home care for patients located in rural areas of North Carolina. The team dreams of a day when every medically complex child who comes to Duke receives seamlessly coordinated care.
"I feel like we've come a long way, and I think we're just getting started," Ming says. "How do we develop a system to support parents, children, and the provider team so we can adequately support the social needs of the families who are involved? Our goal is to make the system meet those needs so that what matters most to the families and the child is front and center at all times."
Please note - this is the fundraising website for Duke Children's. For information about Duke Children's clinical and patient offerings, or to make an appointment with our providers, please contact 919-668-4000 (Children's Health Center main number) or 919-944-8739 (Duke Health referral line).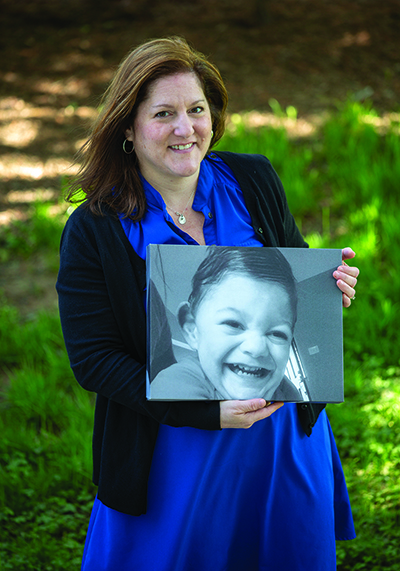 "Parents of medically complex kids sometimes need a permission slip to support themselves for self care." 
Stacy Sorensen
YOUR GIFT CREATES A BRIGHTER FUTURE FOR CHILDREN IN NEED
We appreciate gifts of any size, making sure that your generosity is used to advance medical care and provide a better tomorrow for our children. You can choose a dollar amount to give now, or continue exploring more ways that you can support Duke Children's.