Duke Children's Closed Practice
DUKE CHILDREN'S CLOSED PRACTICE SESSION
Fall 2020
Cameron Indoor Stadium
As part of the MIX 101.5 Radiothon for Duke Children's we are offering you a special chance to join us for an early season closed practice session during the afternoon with Coach K and the 2020-2021 Duke Blue Devils Men's Basketball Team!
Do you bleed Duke Blue? Have you always wanted to experience a behind-the-scenes look at Duke Basketball? Now is your opportunity to get an exclusive look at the 2020-2021 Duke Men's Basketball Team as they gear up for another exciting season! For a donation of $250, $1,250, or $2,500 to Duke Children's, you can be in the room where it happens. Seats are limited, so make your gift today.
There are several ways you can join us in Cameron Indoor Stadium for an exclusive sneak-peak of this year's Blue Devils. Please make your gift online using one of the options below. Date and times for the 2020 Closed Practice will be decided in summer 2020. 
VIP Information ($1,250 and $2,500 donation)
Your donation of $1,250 or $2,500 gets you one or two seats for a VIP Closed Practice experience. An exclusive look at the team, refreshments,  and a meet and greet photo session with Coach K are some of the perks of VIP experiences from past Closed Practice Sessions! 
General Admission Information ($250 donation)
Your donation of $250 gets you a seat in Cameron Indoor Stadium to observe the 2020-2021 Duke Men's Basketball Team during the Closed Practice Session, as well as a self-guided tour of the Duke Basketball Museum and Hall of Fame.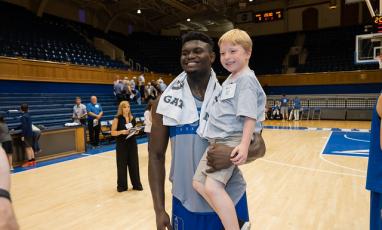 Your donation of $250 to Duke Children's gets you exclusive access to the closed practice and includes:
One (1) Cameron Indoor Stadium seat behind the team benches
Season insights from Coach K
A self-guided tour of the Duke Basketball Museum and Hall of Fame
Make your $250 donation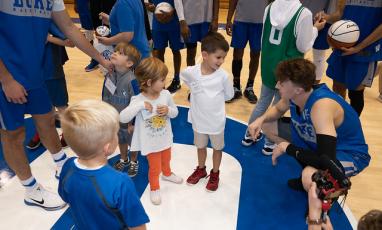 Your donation of $1,250 to Duke Children's includes all the benefits of the $250 level plus:
A guided tour of the Duke Basketball Museum and Hall of Fame
Post-game Q&A with Coach K and refreshments
Photo and autograph with Coach K
Make your $1,250 donation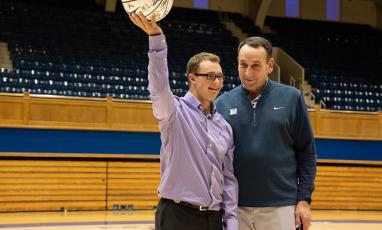 Your donation of $2,500 to Duke Children's includes all the benefits from the $250 and $1,250 levels plus:
One (1) additional seat for a guest
Make your $2,500 donation