A Rare Diagnosis and Uncommon Surgery Brings Together Two Exceptional Girls
As two young patients battled bone sarcoma at Duke Children's, they forged a friendship that has become a source of support and encouragement during difficult days.
By Karen Doss Bowman
Chloe McLamb, 9, and Addison Owens, 6, formed a unique bond in 2019 after meeting at Duke Children's. Both were facing a battle against bone sarcoma – a type of bone cancer typically found near the knee – and a rare surgical procedure that would preserve their abilities to run, jump, skip, and dance like other kids their age.
Each time the girls played together in the waiting room provided brief moments to forget about the scary journey ahead. Chloe, who is a few months ahead in her treatment cycle, has given her new friend pep talks to get through challenging experiences.
"Chloe has been like a big sis through all of this for Addison," says Courtney Saunders Owens, Addison's mom, of Raleigh. "She really relies on and trusts Chloe, so it's been a godsend that this family has been in our lives."
"Chloe seems to really have connected with Addison, and the friendship has been really special for her," adds Chloe's mom, Jaime Parker McLamb, of Willow Spring. "Chloe's always had a nurturing nature and is happy that she's been able to help Addison."
 
Fighting Bone Cancer
Both girls were diagnosed with bone sarcoma (also called osteosarcoma) – Chloe in May 2019, and Addison in August. The condition, typically associated with adolescents and young adults, is rare in children under 10 years old. Bone sarcoma makes up about 5 percent of all childhood cancers, according to the American Childhood Cancer Organization.
The typical treatment for bone sarcoma involves 10 weeks of chemotherapy followed by surgery to remove the tumor. After surgery, several additional months of chemotherapy are needed to kill any microscopic cancer cells lingering in the body.
"Two out of three patients with bone sarcoma are expected to survive long-term with a treatment combination of chemotherapy and surgery," says Lars Wagner, MD, pediatric hematology-oncology specialist.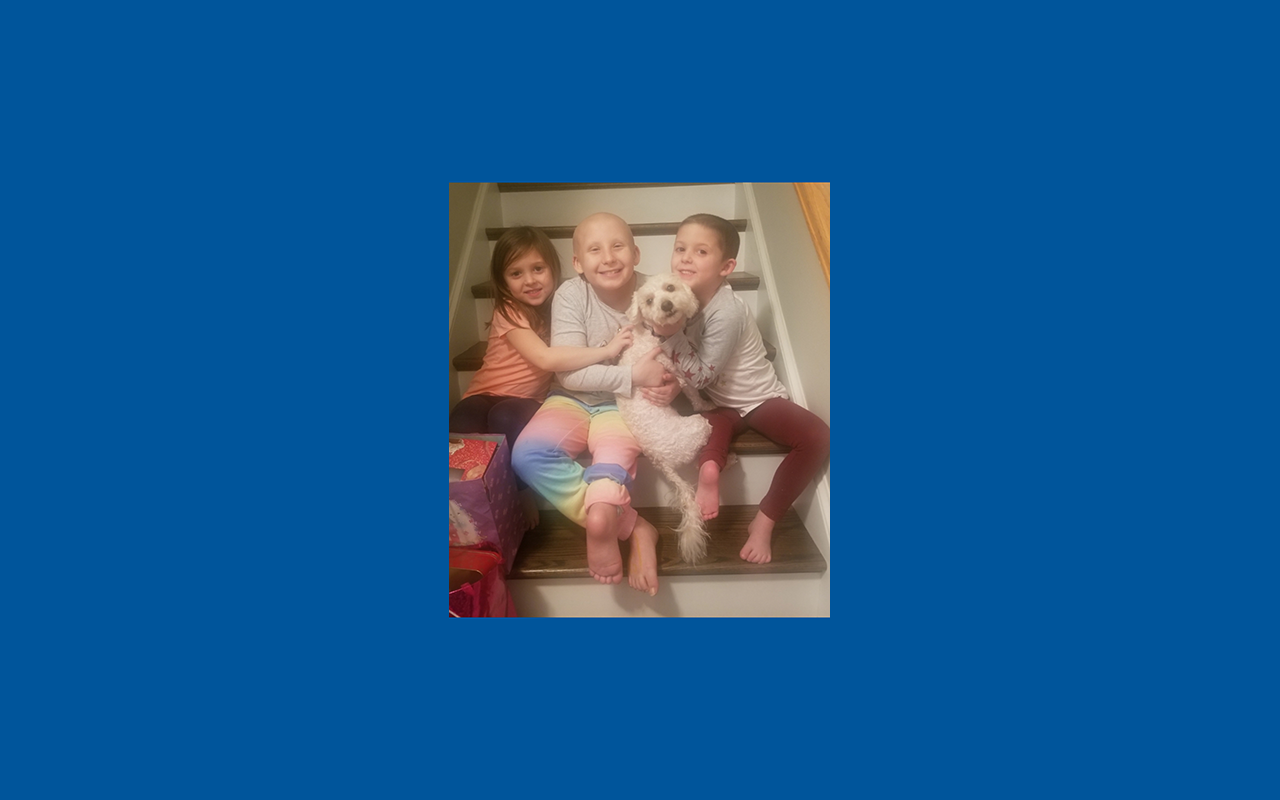 Chloe (middle) shares a playful moment with Addison (right), Addison's twin sister, Avery, and a furry friend.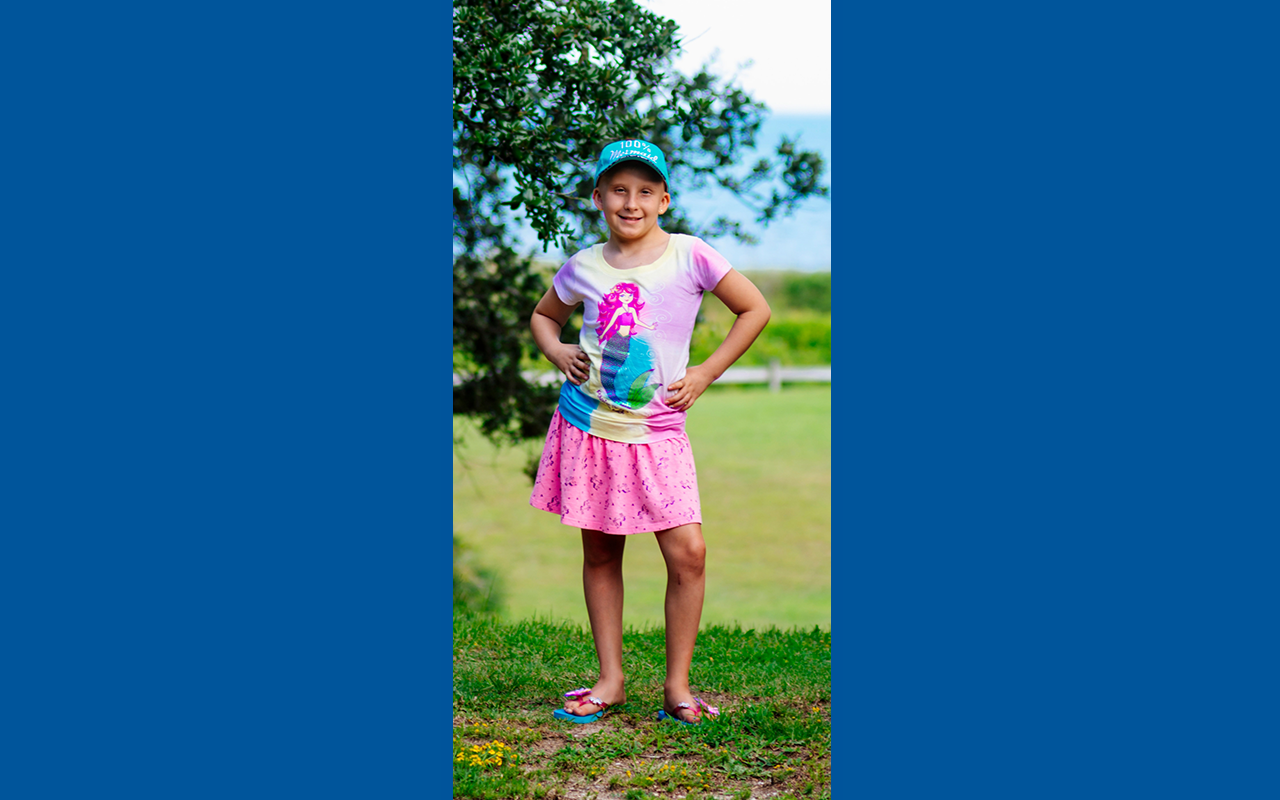 Chloe before undergoing rotationplasty surgery.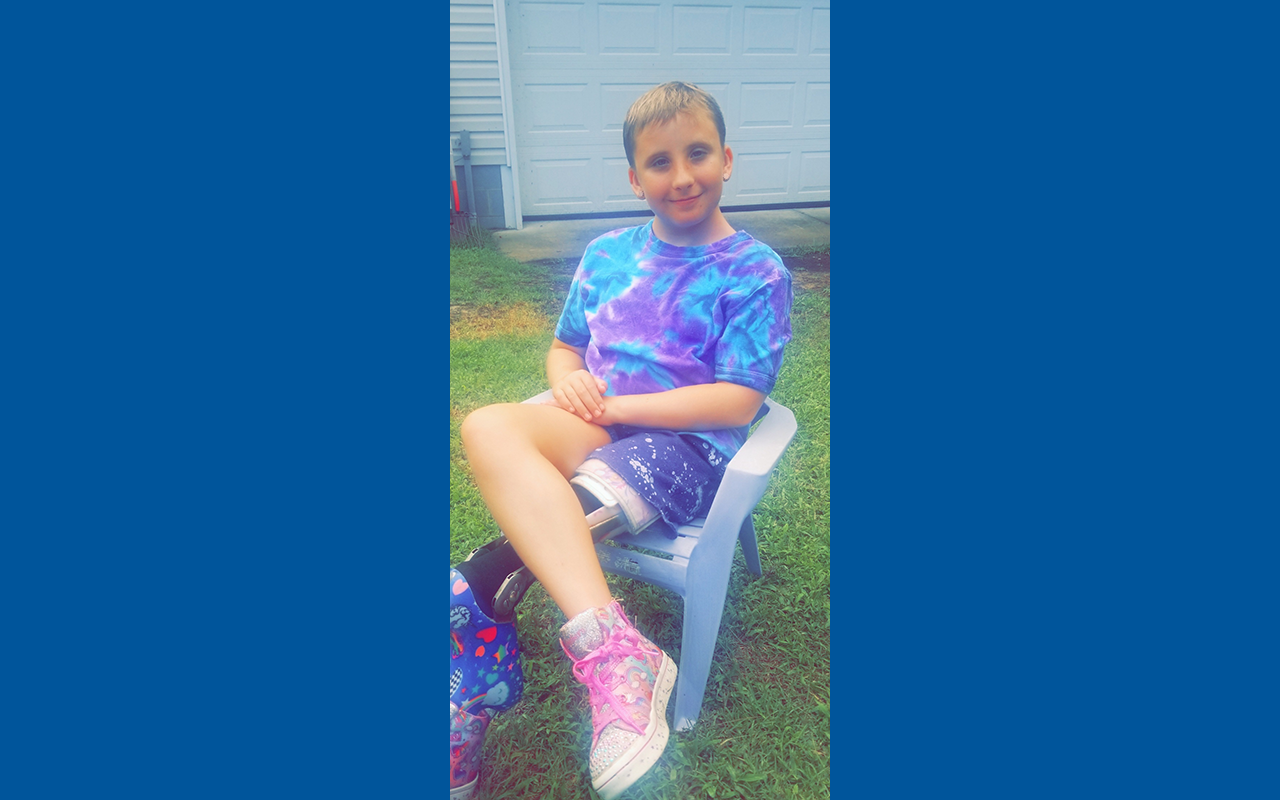 Chloe, several months post-surgery, relaxes while wearing her new prosthesis.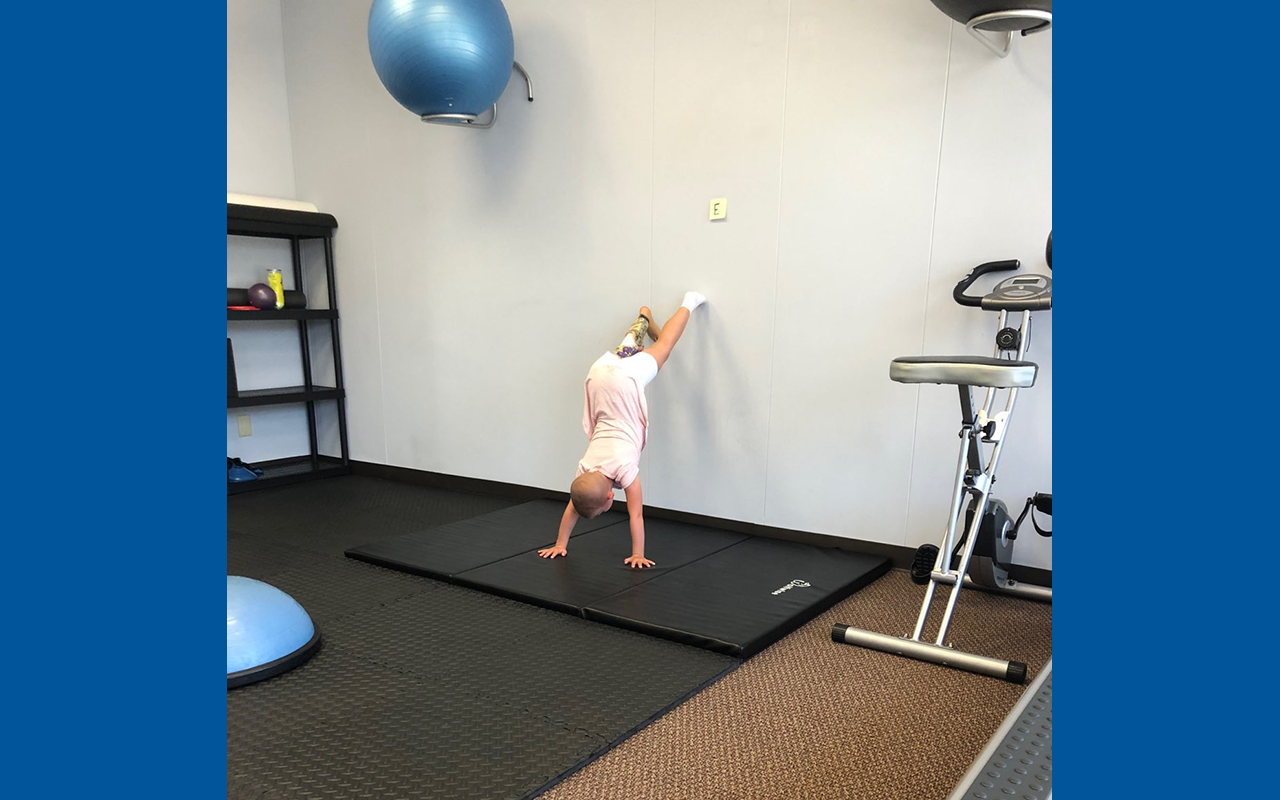 Addison, several months post-surgery, shows off by performing a handstand during a physical therapy session. 
Transforming an Ankle into a Knee
Most patients with bone sarcoma have three potential surgical options: amputation, limb salvage surgery, and rotationplasty. Amputation is the least desirable, as it limits function. During limb salvage surgery, the surgeon removes the tumor and rebuilds the knee with an artificial joint implant. This procedure works well for teenagers or young adults who are fully grown. For younger patients like Chloe and Addison, however, multiple revision surgeries would be necessary as they outgrow the artificial joints. Additionally, minimizing damage to the implants requires some restrictions on physical activity.
Chloe and Addison both underwent rotationplasty. The procedure starts with removal of the knee joint, along with the bottom portion of the thigh and the top section of the lower leg. The remaining lower leg, along with nerves and blood vessels, is rotated 180 degrees and attached to the thigh. The ankle, now facing the front of the body, becomes the new knee joint. The child's prosthesis then slips on like a shoe.
To ensure that the repositioned ankle lines up with the knee on the opposite leg once the child is fully grown, the surgeon uses the leg's remaining growth plates to calculate the appropriate length for the thigh. The procedure is typically performed on children ages 5 to 12.
"Both Addison and Chloe were good candidates for rotationplasty because their reattached ankles and feet will grow along with them," says orthopaedic oncologist William Eward, DVM, MD.
For Jaime and her husband Phillip, the decision to go with rotationplasty was heart wrenching. While they wanted to minimize limitations on their daughter's mobility, they also were concerned that she might be self-conscious about the appearance of her new leg, particularly during the teenage years.
"Chloe has always been a runner, jumper, and climber, pushing the limits with her active lifestyle," Jaime wrote on the family's "Prayers for Chloe-Grace" Facebook page. "Limb salvage surgery would allow her to look like what some in society refer to as 'normal' with very limited function – always being careful not to break it. [We realized that] rotationplasty would allow her to have a functional life, allowing running, jumping, climbing, and just being a normal kid."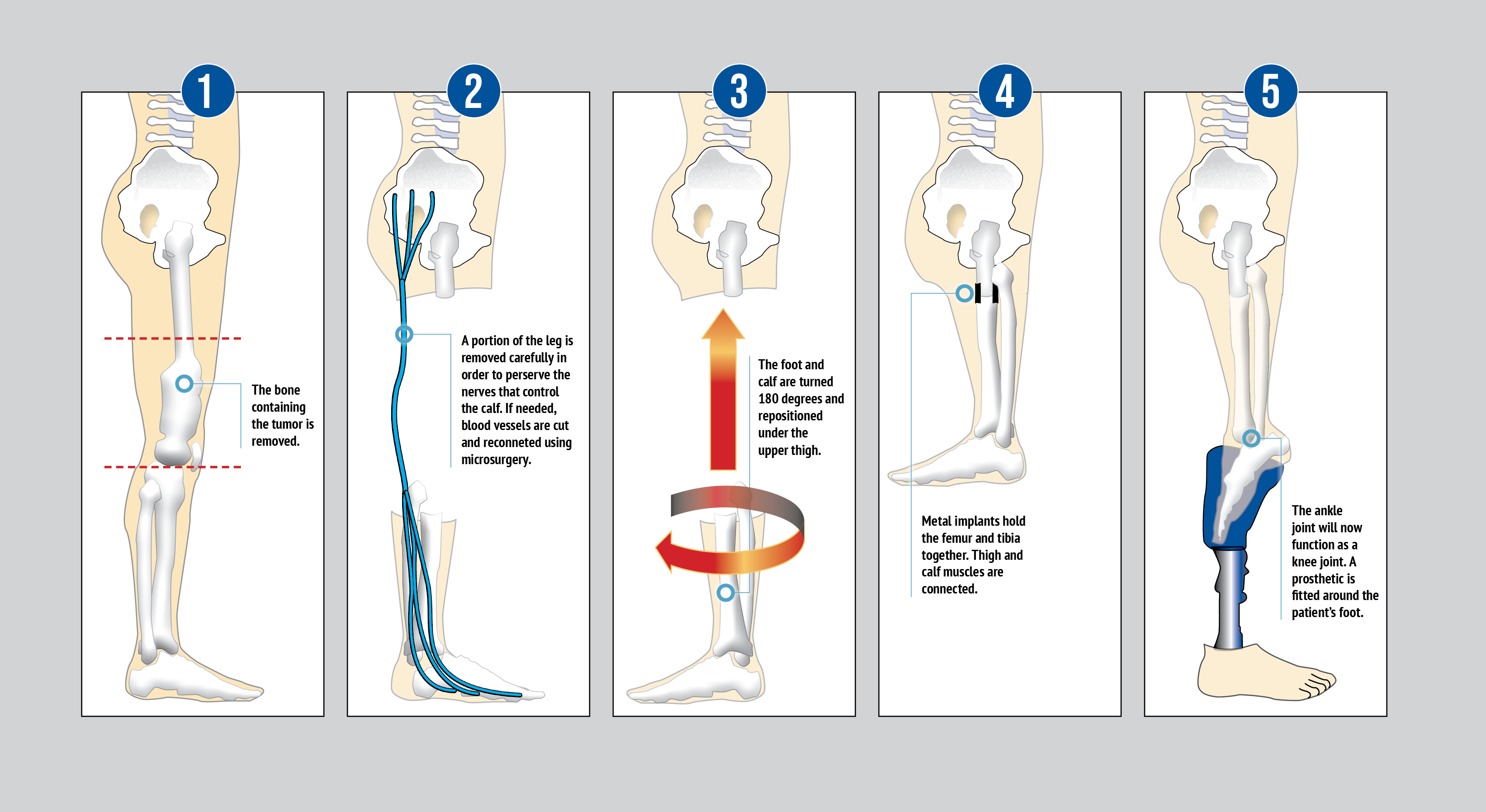 A High-Volume Center for a Rare Procedure
Duke Children's young patients with bone sarcoma are fortunate to have access to an experienced and highly specialized medical team that has performed far more rotationplasty procedures than most medical centers in the country. The doctors also are conducting research to develop better treatments for pediatric cancers. Wagner, for example, is leading a national study on children with recurrent sarcoma. Eward, also a veterinarian on the faculty at North Carolina State College of Veterinary Medicine, runs a lab at Duke focused on identifying the commonalities between cancer in humans and in animals.
The McLamb and Owens families have been impressed with the care Duke Children's has delivered. From the doctors and nurses to the social work team and child life specialists, Courtney and her husband Jay have found Addison's providers to be compassionate and accessible, ready to answer questions or provide support as needed.
"Dr. Eward is a fantastic surgeon – so down to earth and really invested in Addison," Courtney says. "And Dr. Wagner explains things so thoroughly and goes over every single option in detail. He really doesn't leave a stone unturned. And even though I work as a mental health counselor, I valued the advice the child life specialists gave me in addressing difficult issues with my daughter."
For both girls, the journey with cancer has been a tough road. Addison only went to the first day of kindergarten with her twin sister Avery. Since then, she has received homebound instruction from her school system and from the educators on staff at Duke. And Chloe often has been separated from her brother Caleb during treatments. Even so, their families and medical teams believe both girls have handled their circumstances remarkably well.
"They're both just as tough as nails, and they tend to just press on," Wagner says.
"Despite how difficult this has all been, Addison is still smiling and continues to inspire us all every day," Courtney says. "She's a trooper."
For Jaime, seeing Chloe embrace life with her new prosthesis – colorful and decorated with unicorns – has been affirmation that rotationplasty was the right choice. In January, Jaime posted a video on Facebook of Chloe joyously jumping on her trampoline and wrote:
"To choose 'cosmetics' over function would have stolen something more important away from Chloe. I think her little backwards foot makes her even more unique and even more amazing and adorable. … Moments like this reinforce that we made the right decision to let her choose her surgery which would determine her quality of life."
Published August, 2020, Duke Children's Development
YOUR GIFT CREATES A BRIGHTER FUTURE FOR CHILDREN IN NEED
We appreciate gifts of any size, making sure that your generosity is used to advance medical care and provide a better tomorrow for our children. You can choose a dollar amount to give now, or continue exploring more ways that you can support Duke Children's.