"It's All About the Kids"
A supporter with a passion for helping kids reminisces about the Duke Children's Classic
By Kayla Jordan 
When Joe Hoffman accepted a friend's invitation to attend the Duke Children's Classic, he had no idea he would be starting an ongoing relationship that would last nearly 30 years and continue until today. And while this longtime Duke Children's supporter has many incredible memories from his time with the Duke Children's Classic, including golfing with some of the sport's greats and seeing celebrities perform live, he never forgot what mattered most: the Duke Children's patients and the providers who cared for them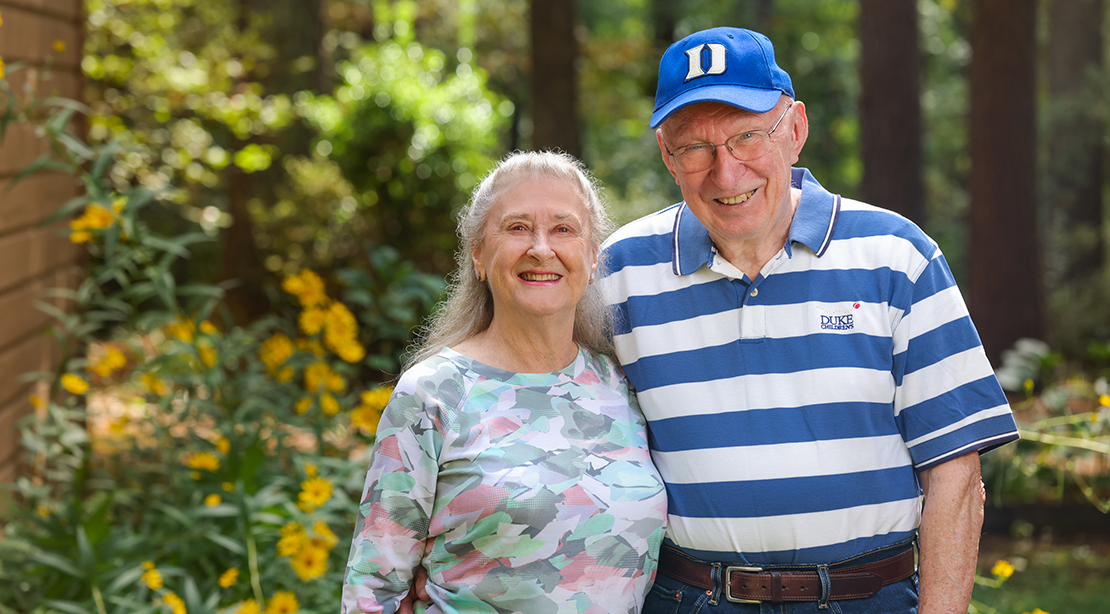 A Long Relationship
The Duke Children's classic was an annual celebrity golf tournament and performance event held to benefit Duke Children's. The event began in 1974,  headlined and chaired by Perry Como, a singer, actor, and television personality. Como would recruit performance and sports celebrities to the event, which ran for 35 years.
Hoffman was invited to attend his first Duke Children's Classic by Jerry Neville, who was an active volunteer for the event. As part of his experience and as an introduction to Duke Children's, Hoffman attended a tour of Duke Children's hospital led by Samuel L. Katz, MD, who at the time was chair of the Department of Pediatrics at the Duke University School of Medicine and the physician-in-chief of Duke Children's. What Hoffman saw that day would change his life.
"The children I saw there, I had never seen anything like that before," Hoffman recalls. He immediately knew he wanted to be involved with the Duke Children's Classic to support Katz's work and to help the children he saw during his tour. Hoffman soon became an integral part of the Classic, participating in and volunteering with the event for 29 years until it ended in 2008.
A Classic Event
Hoffman watched the event evolve during his nearly three decades as a volunteer and participant. The two-day event involved golf at several golf courses, including the Washington Duke Inn & Golf Club and the Croasdaile Country Club, and a celebrity showcase. Golfers were organized into teams, and Hoffman recalls being paired up with golf legend Sam Snead during his first time playing at the Classic. Hoffman would play with Snead several more times during the Classic, as well as with many other golf and sports greats. Once while playing at Croasdaile in the 1980s, Hoffman recalls playing in the group in front of Michael Jordan. 
The celebrity showcase had many homes. At one point the event was on the Duke University campus at Cameron Indoor Stadium; tables were set up on the court for paying attendees, and the public could attend and sit in the stands. The showcase also moved to theaters around Duke's campus before landing at the historic Carolina Theatre in downtown Durham. Como would headline and host the showcase and he invited many of his celebrity friends throughout the years, including Dinah Shore, Frank Sinatra, Bob Hope, and other top stars. Later celebrities included Jay Leno and Bill Murray. "Those shows were spectacular," Hoffman recalls.
Como stepped down from his role in the event in the late 1990s, and comedian Jeff Foxworthy took over as leader and honorary chair. During Foxworthy's time with the Classic, he presented Hoffman and his wife, Shirley, an award for their commitment to the Duke Children's Classic and Duke Children's. Hoffman was touched by the recognition and treasures his photos and memories of sharing the stage with Foxworthy. The final Duke Children's Classic was held in 2008. All told, the event raised $14 million for clinical care, pediatric research, and family support at Duke Children's.
Joe and Shirley Hoffman with comedian and Duke Children's Classic chair Jeff Foxworthy, at the 1999 classic. 
Joe and Shirley Hoffman at the Washington Duke Inn & Golf Club in September of 2021. 
Attendees enjoy the Duke Children's Classic, including Dr. William G. Anlyan, center in white hat. 
A golfer at the Duke Children's Classic. 
Attendees of the Duke Children's Classic, including Senator Terry Sanford (far left) and Buck Waters (far right). 
Several iterations of the Duke Children's Classic included a race; here, Dr. Samuel L. Katz participates. 
From left to right: Perry Como, Dr. William G. Anlyan, and Frank Sinatra. 
Perry Como (white hat) greets golf participants at the Duke Children's Classic. 
What Matters Most
While Hoffman loved his experiences meeting celebrities and playing golf, his primary motivation was always the patients at Duke Children's. The Hoffmans made numerous contributions to Duke Children's during their involvement with the Classic, most notably a generous gift to fund a library that could be accessed by the inpatient children at the hospital.
Hoffman was also an enormous advocate for the Classic. He served on the board and sponsored the event at the highest levels. He and his wife brought many friends with them to attend the event, converting many of them to longtime Duke Children's donors. The Hoffmans also ensured their children attended the event and understood the importance of supporting institutions like Duke Children's.
Hoffman continued to support Duke Children's in other ways, such as through attending the Jim Valvano Kids Klassic, a golf event supporting pediatric cancer research at Duke Children's, and making donations to funds in honor of Como and Katz, as well as in memory of Catherine Wilfert, MD, an esteemed physician and researcher at Duke Children's and Katz's late wife.
Hoffman, who had a long career at Bristol Myers Squibb, is now retired and lives with Shirley in North Carolina, where they have resided for 42 years. They have spent their later years traveling, gardening, and maintaining their home. Hoffman cherishes his time with and memories of the classic, including the people he met and the children he helped. "That was what the Classic was to me," Hoffman states. "The children."
Many of those children have received the gift of hope and healing, thanks to the generous support and advocacy of the Hoffmans and the legacy of the Duke Children's Classic.
YOUR GIFT CREATES A BRIGHTER FUTURE FOR CHILDREN IN NEED
We appreciate gifts of any size, making sure that your generosity is used to advance medical care and provide a better tomorrow for our children. You can choose a dollar amount to give now, or continue exploring more ways that you can support Duke Children's.