4 TIMES THE JOY
Quadruplets born at Duke two years ago now thriving despite early complications
Written by Whitney J. Palmer
Photographs by Chris Hildreth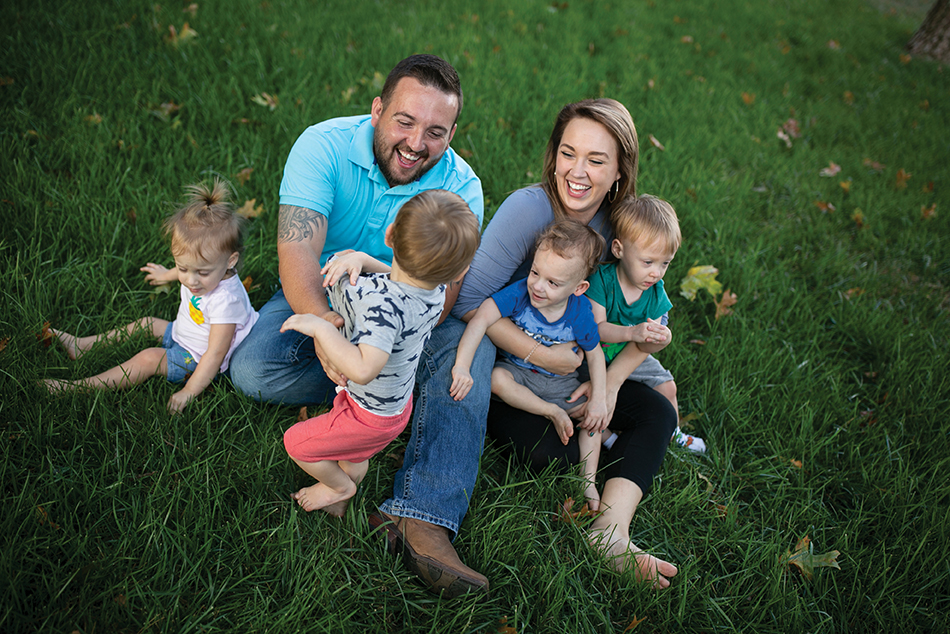 Early in her pregnancy in 2017, Katlyn Edwards unexpectedly began bleeding, sending her to the emergency room at Duke Regional Hospital with her husband, Devin, by her side. Worried they would lose the baby, they instead received a big surprise.
"I had started bleeding, so we were in the hospital for an ultrasound," says Edwards, a Roxboro, North Carolina, resident. "The doctor came in and told us everything was fine. Then she said, 'There's four babies and four healthy heartbeats.'"
The news was a shock, she says. Although she and her husband had struggled to get pregnant due to her polycystic ovary syndrome, she had only taken a single round of the fertility drug Clomid a few days before discovering she was already pregnant. Her quadruplets had been conceived naturally.  
Edwards, who works as a hairdresser, was already receiving prenatal care at Duke's High Risk Pregnancy Clinic. Once her doctors knew she was carrying multiples, they restricted her activity, starting at 18 weeks gestation. Still, she was admitted to the hospital in active labor at 22 weeks. Her babies—Christian, Elsie, Colton, and Marshall—were born at 25 1/2 weeks.
From left to right: Marshall, Christian, Colton, Elise (and Princeton the dog, waiting for snacks!)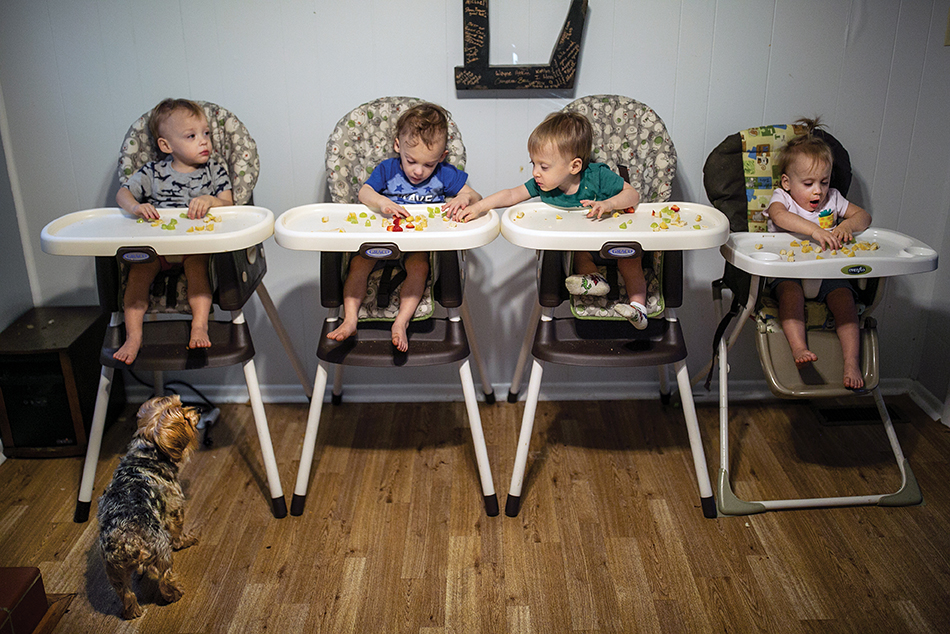 And Suddenly There Were Four
Despite the doctors' best efforts to prolong her pregnancy, Edwards delivered the babies via emergency C-section in April 2017. Each weighed under two pounds and measured less than 12 inches long.
"They were little nuggets," Edwards recalls.
Upon arrival, they upended life for both their parents and the Intensive Care Nursery (ICN). Staff called for additional nurses and rearranged babies to find space for the quadruplets. But, they immediately stole everyone's hearts, says intensive care nurse Jessica Welch, BSN, RN, who primarily cared for Christian.
"It was cute because, at a very early age, you could put the babies next to each other, and they'd look at each other," she says. "It was cool to see how they interacted. They sort of knew they were siblings from the beginning."
It was the nurses' round-the-clock care and attention, Edwards says, that kept her calm and relaxed during a time when she couldn't bring her babies home or hold them as much as she wanted.
"Everyone kept me informed of everything going on, and they explained things in ways that didn't freak me out," she says. "It's clear this isn't just a job to the doctors and nurses. They truly cared about our babies and our experience there. They wanted to make sure we were comfortable."
The four children wait in their Roxboro home for their father, Devin, to return from work. Doctors say the children are developing well and have a bright future ahead of them. 
The quadruplets and their mother, Katlyn Edwards, visit the Children's Health Center at Duke Children's for appointments, with help from the children's grandfather, Mark Archambault. 
Katlyn and her four quadruplets before an appointment at Duke Children's. 
Katlyn Edwards comforts Colton during a hearing test at Duke Children's. 
Four bottles for four happy and growing babies. 
Tiny, Strong, and In Need of Care
The babies were born healthy with strong hearts. But, as premature infants, they still needed extensive medical care, says William Malcolm, MD, professor of pediatrics and director of the Special Infant Care Follow-Up Program. They all experienced many complications of prematurity, and they also had individual needs.
"With quadruplets, you need a whole team in the delivery room," he says. "Between neonatologists, nurse practitioners, and nurses, there were around 16 providers there."
The lungs develop last during pregnancy, so breathing is a big concern for preemies. None of the quadruplets needed chest compressions for resuscitation at birth, but they did need ventilators for several weeks. Blankets and isolettes—a plastic, heated crib—kept them warm until they could regulate their own body temperatures. They couldn't breastfeed or drink from a bottle, so they all needed feeding tubes, and they all experienced apnea—brief moments where their breathing stopped randomly or during sleep.
The quadruplets also participated in a clinical trial testing whether the colon cancer drug Avastin can combat a common complication of early birth—retinopathy of prematurity. This condition causes abnormal blood vessel growth in the retina, leading to scarring and potential blindness. Avastin slows that growth, reducing the need for future interventions, such as retinal surgery, Malcolm says, and the quadruplets have responded well.
Individual complications also existed. Christian was born with hydrocephalus, a condition where excess spinal fluid accumulates in the brain cavity, often causing an enlarged head and sometimes affecting normal development. Doctors surgically implanted a shunt to drain the extra fluid, Malcolm says, and as Christian ages, this shunt will stay in him, draining directly to his abdomen so his body can absorb the fluid.
Additionally, like many male premature babies, Christian, Colton, and Marshall all had inguinal hernias where part of the intestine pushes through the abdominal wall. These were all repaired surgically.
As the smallest baby, Elsie developed necrotizing enterocolitis, a potentially fatal gastrointestinal disease involving inflammation and bacterial infection. Low blood flow makes the intestinal wall weak and vulnerable to tears. Fortunately, Malcolm says, doctors identified it early, administered antibiotics, and used a suction catheter to relieve her abdominal pressure. She recovered within a few weeks.
After five months of ICN care, the quadruplets went home, supported by their family and Duke's medical home program, an initiative that gives parents 24/7 access to their pediatric team, including doctors, a psychologist, a nurse practitioner, clinical nurse, and social worker, via pager. And today, the children are thriving.
 
Life with Quadruplets
Alongside all the medical concerns, Edwards and her husband suddenly found themselves navigating a new life that looked vastly different.
"We had to get a bigger house and a bigger car. I said I'd never drive a mini-van—now I do," she says. "But life changes, and you decide to go with it."
Initially, the Edwardses cycled through changing 32 diapers daily and juggling constant feedings. Now, as toddlers, the children have gained some independence, and their personalities are shining through, she says. Christian is funny; Elsie is feisty; Marshall is sensitive and rambunctious; and Colton is laid back, but temperamental.
And, despite some delays in walking and in language, Malcolm says, they blend in with their two-year-old peers and will be released to regular pediatric care on their third birthdays.
"It's remarkable that, even though they've had some mild complications, they've really caught up and are developing well," he says. "It's going to be hard to separate them from their classmates once they're all in kindergarten."
It's clear this isn't just a job to the doctors and nurses. They truly cared about our babies and our experience there.
-Katlyn Edwards
YOUR GIFT CREATES A BRIGHTER FUTURE FOR CHILDREN IN NEED
We appreciate gifts of any size, making sure that your generosity is used to advance medical care and provide a better tomorrow for our children. You can choose a dollar amount to give now, or continue exploring more ways that you can support Duke Children's.