A TREAT FOR HOPE AND HEALING
Raleigh couple remains dedicated to Children's Miracle Network Hospitals Fundraising
Written by Bernadette Gillis
Photographs by John Hansen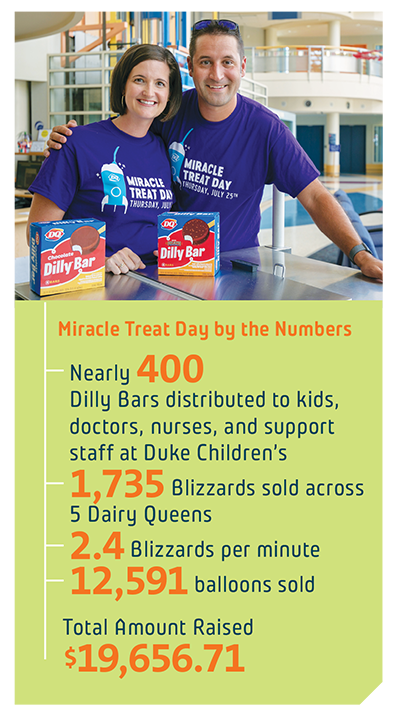 Ask any kid, and you will likely hear that ice cream is the best treat to cool off on a hot summer day. But on one special day in July, ice cream means much more than that to the kids at Duke Children's. When Andy and Christina Valkanoff roll their Dairy Queen cart onto the inpatient and outpatient floors, their cool, icy treats bring smiles to many faces, making what is often a difficult or scary time just a bit easier to bear.
The Valkanoffs handed out nearly 400 Dairy Queen treats called Dilly Bars to the patients, families, and staff at Duke Children's in honor of Miracle Treat Day, a national fundraising event in which participating Dairy Queen restaurants give back to their local Children's Miracle Network Hospital. Andy Valkanoff owns five Dairy Queens, located in Morrisville, Cary, Raleigh, Fuquay-Varina, and Sanford, North Carolina. This year Miracle Treat Day was held on July 25, and the Valkanoffs made their visit to Duke Children's  the day before.
Dairy Queen locations that take part in Miracle Treat Day pledge to donate a portion or all of the proceeds from every Blizzard Treat sold on that day to Duke Children's. Many of these locations also sell Miracle Balloons for the month leading up to Miracle Treat Day to raise even more money. Including Andy Valkanoff's locations, a total of 34 Dairy Queens participated in Miracle Treat Day to benefit Duke Children's.
"We want it to be a celebration," Andy Valkanoff says. "It's about celebrating the good work that Duke Children's does and the support that our community gives us to help bring this to life every year. We have a social responsibility to be part of our community, and that's not a contract that I take lightly."
In keeping with the celebratory spirit of Miracle Treat Day, all of his locations had face painters and balloon artists on hand. Some locations also offered fire truck tours, and another included a car show.
As a Dairy Queen owner, Andy Valkanoff has participated in Miracle Treat Day every year he has been a franchisee. His locations now raise about $20,000 of the $50,000 that Dairy Queen brings in for Duke Children's annually. Over the last 13 years, they have raised nearly $140,000.
Andy Valkanoff's first encounter with Children's Miracle Network Hospitals came long before he ever owned his first Dairy Queen. As an undergrad at Furman University in Greenville, South Carolina, he was a member of Sigma Chi fraternity, which raised money for the local hospital through Children's Miracle Network. "I was lucky enough to be a part of that at 18 and get to understand the important work that they do for kids in our community."
He says he and Christina Valkanoff were inspired to help Duke Children's partly because a few of their friends' children were treated there. "We are blessed to have three healthy, happy kids, but my wife and I are connected with lots of families that aren't as lucky as we are. I think it's our responsibility to help."
The Raleigh couple began handing out treats at Duke Children's about six years ago. "I noticed we were doing all this work for kids in the hospital, but we weren't able to really touch the kids in the hospital," he says. "And so, I went out and bought an ice cream cart. We push it through the halls, and any kid capable of having a treat that day will get a treat, along with all the doctors, nurses, support staff, the janitors, and the valet guys."
Christina Valkanoff gives to Duke Children's through her own work, too. The owner of Christina Valkanoff Realty Group in Raleigh, she donates proceeds from every transaction through the Children's Miracle Network program at Duke. The Valkanoffs are also both active in ministries at their church.
The couple works to instill the importance of giving in their three children as well. "It's hard, I think, for kids to understand why other kids get sick," Andy Valkanoff says. "But our kids are there on Miracle Treat Day, and they are part of the process and part of the celebration."
It's about celebrating the good work that Duke Children's does and the support that our community gives us to help bring this to life every year.
-Andy Valkanoff
YOUR GIFT CREATES A BRIGHTER FUTURE FOR CHILDREN IN NEED
We appreciate gifts of any size, making sure that your generosity is used to advance medical care and provide a better tomorrow for our children. You can choose a dollar amount to give now, or continue exploring more ways that you can support Duke Children's.