DREAMING BIG
A mother's special gift and coordinated care offer girl a fighting chance against kidney tumors
Written by Miriam Sauls
Photographs by Les Todd
Nine-year-old Piper Bell has an enormous imagination. She has dreamed up her own universe populated by a flying superhero, Mystery Kitty, complete with its requisite villain, a green cat named Ginger who can cast spells.
Along with her large store of creativity, Piper has another defining characteristic. She has a deletion of genetic material on the short arm (p) of her chromosome 11.
"Doctors were baffled when Piper was born because she wasn't opening her eyes," says Piper's mom, Melissa Bell. "So they referred us to other doctors, and thankfully we got pointed in the right direction and ended up at Duke."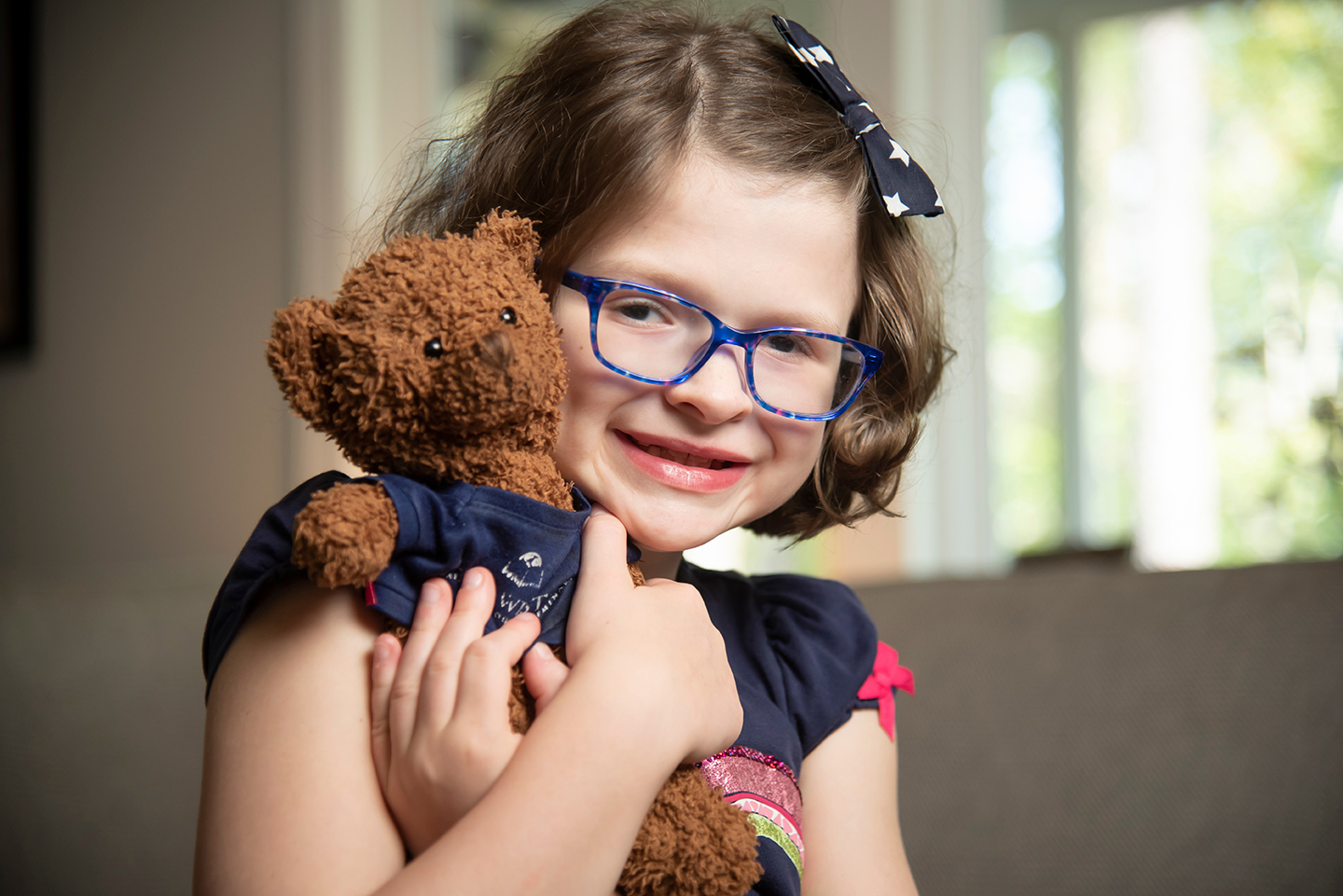 Ophthalmologists at Duke diagnosed aniridia, an absence of the iris, in both Piper's eyes. And because aniridia can be a sign of a rare genetic condition called WAGR syndrome, they knew to be on the lookout for other disorders associated with the syndrome, such as a rare form of kidney cancer called Wilms tumors, and intellectual disability.
"The doctors outlined all the other things that might be in our future and what we needed to look for, and that's where it all started," says Melissa Bell.
 
Kidney Complications
Around her first birthday, Piper had a kidney scan, and she did have tumors on both kidneys, confirming the suspected genetic deletion and WAGR syndrome. Her right kidney had more tumors, so it had to be removed completely, but only part of the left kidney was removed.
"The plan was to start with chemotherapy three months prior to surgery," says Shashi Nagaraj, MD, professor of pediatrics and chief of pediatric nephrology. "We were hoping after surgery she would have enough function in the left kidney, but it turned out there was not enough function, so we had to put in a catheter for hemodialysis."
Hemodialysis is a life-sustaining procedure that acts as an artificial kidney machine.  A child's blood is pumped out of the body through the machine, which filters wastes and water from the blood. The "cleaned" blood is subsequently returned to the body, and for small children such as Piper, it is performed in a hospital. 
So Piper stayed in the hospital for 45 days, with Mom at her side the entire time. "She had to lay still for hours at a time," recalls Melissa Bell. "It was very difficult."
When Piper healed from surgery, a peritoneal catheter was placed in her belly,  so doctors could start peritoneal dialysis, a process in which the inside lining of one's own belly acts as a natural filter, and that could be done at home.
Piper did peritoneal dialysis at home for two-and-a-half years. "The catheter tube hung out about a foot, and Piper named it 'Tubie,'" says Melissa Bell. "She calls her scar from Tubie her second belly button."
"I have two belly buttons," Piper says with glee.
Melissa Bell says those years were quite hard. "Piper couldn't be submerged in water because she had a tube that couldn't get wet. And it was extremely challenging to feed her because since birth she had never established a strong eating pattern, and she couldn't have phosphorus or potassium or dairy. But the most stress was wanting to get on with the transplant and just having to wait."
"Our goal was to nurture her growth and keep everything as normal as possible until we could make sure she was stable and the tumor wouldn't recur so we could proceed to a kidney transplant," says Nagaraj.
Piper Bell (left) with her dad, Brian; sister, Emma; and mom, Melissa. Piper needed a kidney due to a rare form of kidney cancer. Fortunately, her doctors didn't have to look far for a donor. Her mom donated her kidney in 2013.
'A Mom Thing'
They didn't have to look far for a donor.
"The day we found out she had cancer as an infant, they were telling us all the things that might happen. I told them on that very day that if Piper needed a kidney, she could have mine. I never really thought about it. There was no question. It was just a mom thing, I guess," says Melissa Bell.
Piper got her mother's kidney in 2013.
"A lot of people think that you put the transplanted kidney in and you're done," says Eileen Chambers, MD, associate professor of pediatrics and one of Piper's doctors, who came to Duke in 2016 to be medical director of Duke's Pediatric Kidney Transplant Program.
"The medications that we give to prevent rejection also prevent the immune system from effectively clearing infection. Indeed, Piper has had multiple recurrent urinary tract infections since her transplant. She is on prophylactic antibiotics and frequent monitoring," says Chambers.
"Overall Piper is doing very well six years after her transplant, but a kid like this has so many things to overcome," says Nagaraj. "She is still followed by ophthalmology, urology, and hematology oncology."
Looking Ahead
The goal now is to make sure Piper's kidney lasts as long as possible—a kidney can last anywhere from 12 to 15 years—and that she continues to grow. "Her family has done a remarkable job of taking care of her, getting through the dialysis, and then managing the transplant very well," says Nagaraj. "Credit goes to them."
Melissa Bell gives the credit to Duke. "We've been so pleased with Duke because we ended up with all these medical teams, and they're all working together, and we've been thrilled," says Melissa Bell.
Piper has to make frequent trips from her home in Wake Forest, North Carolina, to Duke for all the monitoring, but she doesn't mind. "I don't even cry when I have to get shots," she says. She offers to hold her older sister Emma's hand when Emma needs a routine shot. "Because she gets scared," Piper explains.
"Piper has an immense amount of compassion," her mother says. "She really is good-natured about it all. I have no idea how we are so blessed. Her dad and I just want her to be happy and to be able to enjoy life."
Piper has every intention of enjoying life. Her plans include owning Piper's Hotel, where she will combine her two dreams—to be a pop star and a dog groomer. She will perform on the hotel stage and will oversee a dog grooming business on the premises. Her family and doctors likely all agree that she will run the place with her signature resilience.
She really is good-natured about it all. I have no idea how we are so blessed. Her dad and I just want her to be happy and to be able to enjoy life.
- Melissa Bell
YOUR GIFT CREATES A BRIGHTER FUTURE FOR CHILDREN IN NEED
We appreciate gifts of any size, making sure that your generosity is used to advance medical care and provide a better tomorrow for our children. You can choose a dollar amount to give now, or continue exploring more ways that you can support Duke Children's.