PROJECT HOPE 1000
New Duke study aims to end disease where it begins
Written by Aliza Inbari
Photographs by Chris Hildreth
The first 1,000 days of life—the time from conception through pregnancy and the first two years of life—is known to have a profound impact on our lifelong health and the diseases that we develop later in life.
Some well-known examples of this are the harmful, long-life effects of smoking and alcohol use during pregnancy on the baby's health. Smoking can increase the risk of low birth weight, lung problems, and other birth defects, and drinking can lead to premature birth, intellectual disabilities, and heart and other birth defects. In turn, studies show that low birth weight is associated with developing cardiovascular disease, osteoporosis, type 2 diabetes, and obstructive airway disease as an adult.
But what if socioeconomic factors and environmental exposures during pregnancy like the air that mothers breathe or the water they drink contribute to other common diseases, such as asthma and cardiovascular disease?
To answer that question, Sallie Permar, MD, PhD, professor of pediatrics, molecular genetics and microbiology, and immunology, and Geeta Swamy, MD, associate professor of obstetrics and gynecology, launched Project HOPE (Health Outcomes related to Pregnancy and early-life Exposures) 1000 in November 2018.
Understanding the Origins of Disease
The project, funded by the Duke Children's Health & Discovery Initiative and the Translating Duke Health Initiative, is a longitudinal study that will include 1,000 mother-infant pairs and focus on biological measures during the first 1,000 days of life to understand the links between pregnancy factors and mother-infant health outcomes.
"We are trying to understand what are the important genetic, epigenetic, and clinical factors, as well as environmental exposures, that can predict some of the most common diseases in children like asthma, diabetes, obesity, and neurodevelopmental problems, and if there are interventions that can be used early in life to change the severity or reduce the number of children that are suffering from those diseases," says Permar.
Permar was intrigued by studies demonstrating that the predictors of long-term disease start as early as birth and that low birth weight, less than 2 to 2.5 kilograms, can predict up to 30 percent of the risk to develop a cardiovascular disease later in life. "That really led me to think that investing in understanding the impact of pregnancy exposures and early life's health will have the greatest impact not only on the child's life, but on the population as a whole," she says. "If we focus our efforts not on the end-of-the-line disease, when you have a heart attack or cancer, but on the origins of the disease and end it where it begins, we can improve health in child and adult populations."
Swamy adds: "We are starting to see a decline in preterm birth rates in our area, but it is still almost two times higher in African American women than in Caucasian women. We still see that adverse outcomes in pregnancies like hypertensive disorders are more common in underrepresented minority groups, and this is one of the drivers for this study—to try to improve health for our community."
Capturing the Data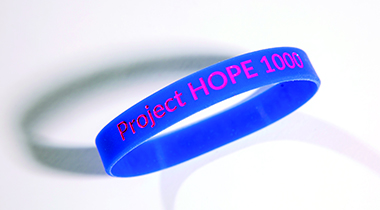 Project HOPE 1000 enrolls pregnant women at the first or second trimester of pregnancy (up to 24 weeks of gestation). Participants will have study visits during each trimester of pregnancy, at the delivery of their baby, and four to six weeks after birth. The mother and the infant will provide a series of biospecimens, such as blood and microbiome samples. Mothers will wear silicone wristbands for five days each trimester to capture what they breathe in during the pregnancy, and will fill out a study survey about their diet, environmental exposures, and socioeconomic factors. The data will be collected from the beginning of the pregnancy through the second year of life.
The study will continue to follow mothers and their children until they are 18 years old via their electronic health records and academic, economic, and social services data. The data will allow researchers to identify factors that contribute to poor birth outcomes, including the mother's health; pre-term birth and low birth weight; and longer-term health and well-being outcomes for children, such as academic achievement and growth trajectories. The study's data and biospecimens will be available for other studies conducted by researchers across Duke.
We are trying to understand what are the important genetic, epigenetic, and clinical factors, as well as environmental exposures, that can predict some of the most common diseases in children.
-Sallie Permar
YOUR GIFT CREATES A BRIGHTER FUTURE FOR CHILDREN IN NEED
We appreciate gifts of any size, making sure that your generosity is used to advance medical care and provide a better tomorrow for our children. You can choose a dollar amount to give now, or continue exploring more ways that you can support Duke Children's.