A TRUE ALL-STAR FOR DUKE CHILDREN'S
By Lindsay Gordon-Faranda
On August 25, 2018, a parade of motorcycles roared their way from Raleigh to Duke Children's for the 19th Annual All-Star Ride for Life, a fundraiser for the patients and caregivers at the hospital. Event organizer Stanton Simmerson, a nurse and lifelong motorcycle enthusiast, started the ride 20 years ago after a life-changing encounter with a family in need inspired him to combine his love of motorcycles with a newfound passion to make a difference.
A Lesson on Charity
Simmerson began working as a nurse at Duke University Hospital in 1997. While on a lunch break in 2000, he went to the Hardee's in the hospital food court to grab a bite to eat. He noticed the line wasn't moving. After about ten minutes of waiting, Simmerson went to the front of the line to investigate the issue. There, he found a sobering scene: the cashier was paralyzed as she watched a customer, a young man in his mid-twenties, count change on the counter over and over, struggling to see if he had 49 cents to buy a plain hamburger. But he kept coming up short, causing the delay in the line.
"I felt as low as a human being could possibly feel," says Simmerson, who is now a clinical III nurse in the adult pre-anesthesia testing ward at Duke University Hospital. He quickly offered to pay for the young man's meal, but the man replied that he did not want anyone's charity. "I asked him, 'Well, if I was standing here and was hungry, and you worked here, would you buy me lunch?'" Simmerson recalls. "He sheepishly admitted that yes, he would. So I told him, 'Then it's not charity, it's just being a good person.'" Simmerson and the young man ordered their lunches and sat down together to eat.
20
Years the All-Star Ride for Life will celebrate in 2019
$300k
Nearly $300,000 has been raised for Duke Children's since the first Ride in 2000. 
A Father's Struggle
Simmerson learned that the young man was in Durham to care for his four-year-old son, who was undergoing treatment at Duke's Pediatric Bone Marrow Transplant clinic. His wife was at home in Kentucky with their two-year-old child. The young father's situation was desperate: he had lost his job because of all the time he'd missed from work to take care of his son. He was sleeping in his car in the Duke University Hospital parking deck. "Here I was thinking I was some big-shot nurse with so many problems," Simmerson says, "and then I came face to face with what real problems look like." 
Simmerson immediately called a social worker, who gave the young father vouchers for a hotel room and for meals. Simmerson also ensured that the social worker would keep tabs on the man and give him help and support during his son's treatment. "As I walked away from that experience, I realized that I had to do something more than just come to work and do my job. There had to be something that I could do to make things just a bit better in the world." Simmerson, a champion motorcycle racer and racing instructor, realized he could combine his longtime love of motorcycles with his newfound motivation to make a difference.
Committed to the Kids
The first All-Star Ride for Life was held in 2000. "As long as I'm alive, the ride will continue," says Simmerson, who is married with two grown stepchildren and a four-year-old-grandson. "The looks on kids' and parents' faces when they see this hoard of bikers come roaring in to Duke Children's is something you have to see in person to believe. They can't believe that all these bikers that they don't even know came to see and support them at the hospital."
Simmerson's commitment to making a difference for the kids at Duke Children's was recognized at last April's Duke Children's Gala, when he was awarded the inaugural Duke Children's Hero Award. And the 19th Annual Ride for Life was a success, raising over $22,000 for the hospital and featuring 82 bikes and 106 riders, all of whom journeyed to Duke Children's to support the kids. The ride has raised over $290,000 for Duke Children's since its inception, and Simmerson looks forward to breaking the $300,000 mark at next year's 20th Annual All-Star Ride for Life.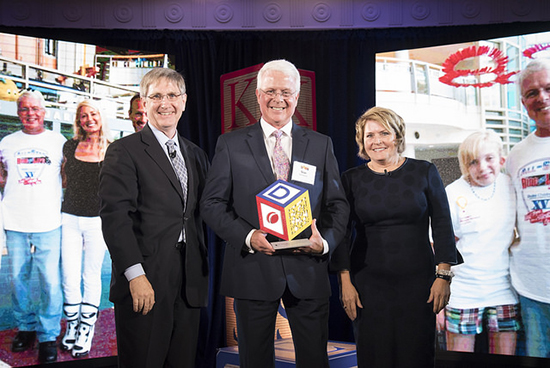 Every rider who attends the All-Star Ride for Life receives a shirt with the slogan, "Don't hope for a miracle, be one!" Simmerson saw a need and became the miracle that that father, and so many parents and children who come to Duke, required. Simmerson says, "If I can raise a little money or bring a smile to a child or their parents as they see a swarm of motorcycles descend on the hospital, then I will have considered mine a life well-lived." 
To learn more about the All-Star Ride for Life, contact Stan Simmerson at stanton.simmerson@duke.edu or visit the All-Star Ride for Life Facebook page. 
Don't hope for a miracle, be one! 
- Stan Simmerson
YOUR GIFT CREATES A BRIGHTER FUTURE FOR CHILDREN IN NEED
We appreciate gifts of any size, making sure that your generosity is used to advance medical care and provide a better tomorrow for our children. You can choose a dollar amount to give now, or continue exploring more ways that you can support Duke Children's.